When the going gets tough ...
... the tough start cooking
It wasn't until after I'd left the house and started my run this morning that I realized the headphones I'd grabbed were dead. This meant three miles with just my thoughts. I HATE my thoughts. They're terrible company! Usually.
But today, running with just my thoughts allowed me to reflect on some stuff. Stuff I haven't been able to articulate because I've been keeping myself so busy over the past six weeks.
When Trump was elected (barf emoji), I had been doing a lot of restaurant reviews for the local alt-weekly. November 2016 really clarified for me that restaurant reviews aren't the kind of writing I want to be doing. My interests lie squarely at the intersection of food and social justice, and that's what I want to be writing and reading about. Here are a few things I've been reading:
Now, even though I'm a middle-aged white lady of a certain socioeconomic class, I haven't adopted Brené Brown as my White Lady Guru. But I saw this on Facebook this morning and it cut right through to how I've been feeling about food and social justice in the context of this crisis.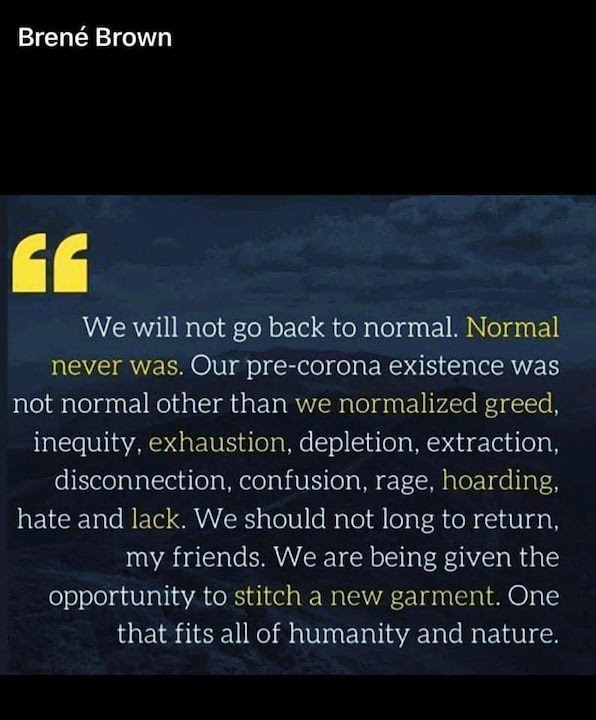 When people's jobs disappeared overnight in March, the lines at the food banks swelled dramatically. The fact that so many people were a missed paycheck or two away from bare pantries and empty refrigerators is a stark indicator of just how spectacularly we have failed as a society. Food feels like the most immediate and urgent way to make a difference, to extend a hand to someone in dire circumstances, to acknowledge someone else's humanity through an act of nourishment.
So, I've been doing what I can to help out. I've been sewing masks for my friends and community members and asking them to donate at least $5 to the Central Texas Food Bank. Everyone has donated way more than $5/mask. To date, I've made about 40 masks and my friends and community members have donated $1435. I'm so grateful and proud to have such generous friends.
My daughter and I have made sack lunches to be distributed downtown to people experiencing homelessness, an opportunity I learned about via my neighborhood Buy Nothing group. I hope to keep up that particular service project with my children so that they understand the value of helping others.
My friend Sarah and her wife launched Bread for the People about six weeks ago. They're baking loaves of sourdough and distributing them to their "subscribers," who donate a suggested $10/loaf. So far, they've raised more than $2000 for organizations supporting folx who've directly affected by the pandemic. If you live in Austin, I strongly recommend getting on their list.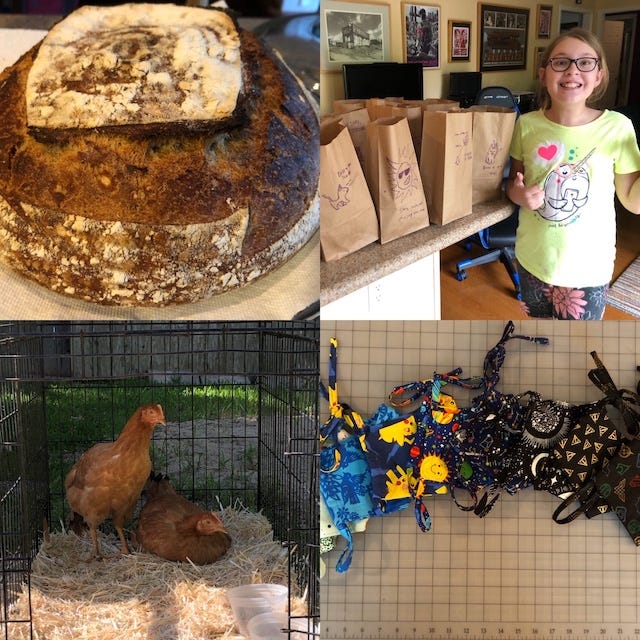 Here at home, I've been connecting with food on a more intimate production level. I planted a garden right before we went into lockdown. When I go out to water and weed, I reflect on how I should have planted half as many tomato plants and twice as many eggplants and cucumbers. I look at the one shishito pepper that's grown and wonder when I'm supposed to pull it and what the hell I'm supposed to do with one freaking shishito pepper.
On Sunday, my husband and I planted our future "orchard" in the backyard: two apple trees, a pomegranate tree, and a blackberry bush. Those join our fig tree, which has yet to provide me with the kind of bumper crop of figs that will truly satisfy my soul.
I got two more chickens, because my friends and neighbors are constantly looking for eggs; on Saturday I traded a dozen eggs for a 12-pack of Fresca and am pretty sure I got the better end of that deal.
My daughter has been taking baking classes via Zoom from a local woman who runs cooking and baking classes for kids. I made the Bitter Southerner cream cheese pound cake and may never be able to top it. I've adopted my beloved friend Kelli's practice of Sunday cakes; yesterday, my son helped me bake a chocolate-chip pound cake (his request). This coming weekend, my daughter will help to bake a cookie cake. The freezer is filling up with half-eaten cakes, and that's a fine problem to have, as far as I'm concerned.
I want our post-pandemic future to be a more humane one, in which we are more deeply connected to those around us. I want us to keep looking out for one another the way we're looking out for each other now. I want us to keep feeding each other. I want us to be better; in my heart, that starts with food.