The Future of the Third Place
It's Cinco de Mayo. We've not really ever been Cinco de Mayo people, although I do have nachos on the menu for tonight. Why nachos? Because I'm sick to death of cooking entire meals, especially because even though I don't live alone, I'm still somehow the one washing most of the dishes used to cook dinner. Nachos are easy: I can dump them on a cookie sheet and walk away.
Here are the things I read this week:
I've been thinking about restaurants a lot lately. I'm sure many of us have. I worry about what a local writer described as a "mass extinction event." Already some long-standing Austin restaurants have had to shutter as a result of the pandemic, including Fricano's, a particular favorite of mine.
I miss hanging out in coffeeshops. I miss my book group meetings at a local brewpub, where I look forward as much to my dinner of Bavarian pretzel + salad + cider as I do the conversation with my friends. I miss going to the movies with my family, outings that I look forward to for weeks ahead of time.
About a year and a half ago, I wrote a feature for the Austin Chronicle in which I looked at hospitality in the Trump era, and the role that restaurants play in the community. I wrote,
In The Great Good Place, urban sociologist Ray Oldenburg describes a "third place," a space that isn't home or work where people can gather to relax and interact with others. He argues that places like restaurants, bars, libraries, shopping malls, swimming pools, and so on are foundational to a sense of community, civic engagement, and a functioning democracy, because they facilitate and foster broad interactions and exchanges of ideas. Third places are a community hub, where all are welcome to pass through.
Over the past several weeks, I've realized just how big a role the third place plays in my life, from working in a coffee shop to group lunches during the workday to outings with my friends and family. I feel the lack acutely. And while my favorite coffeeshops and restaurants are generally still open, picking up a plate of enchiladas (that I'll later eat out of a foil pan at my dining room table) or a bag of pastries and a coffee from a table in a parking lot is a far cry from the commensal thrill of occupying the physical space with that very specific energy buzzing in the air.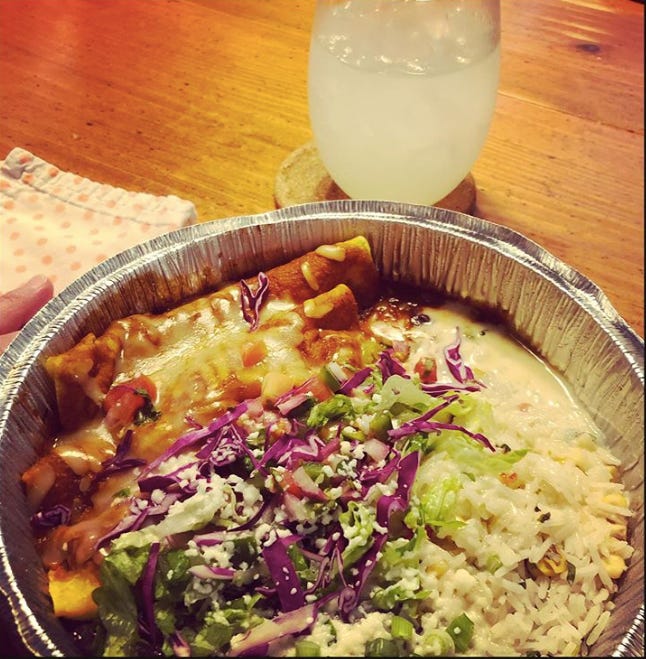 So, in addition to worrying about whether my favorite places will survive, I wonder what the third place experience will be like post-pandemic. While I remain hopeful and optimistic that we can experience that commensal buzz together again sometime down the road, I wonder how those spaces that are so fundamental to building and sustaining communities are going to reconfigure themselves. If we can't hang out in semi-public spaces like restaurants, coffeeshops, bowling alleys, etc., how do we engender community? How does a coffeeshop create an inviting space with social distancing in mind?
The third place is what keeps us connected, keeps us from being too isolated. How do we reconnect via the third place after this? Are we all capable of "smizing" above our masks while we collaborate, contemplate, and communicate?