Sweater weather
We finally got some sub-80s weather here in Austin, and it was like flipping a switch. No gentle transition into autumn for us, no sirreebob. On Sunday, it was 90 degrees. On Monday, the high was about 45 degrees. Talk about whiplash! This abrupt change in weather made me realize two things: 1. I need new pants. I purged all of my old trousers, which were 2–3 sizes too large, a few months back and never replaced them. So I'm wearing a lot of leggings and jeans, which is fine, but sometimes a body likes a garment with structure, one that elongates the legs and allows for knee socks and clunky shoes. 2. When the weather turns cooler, I find myself tinkering in the kitchen more and more. This usually takes the form of pumpkin breads and sweet potato muffins and snickerdoodles and whatnot, but this year I've branched out a bit into savory items, thanks in no small part to having subscribed to Imperfect Produce. (<— that's a referral link, btw. Sorry.)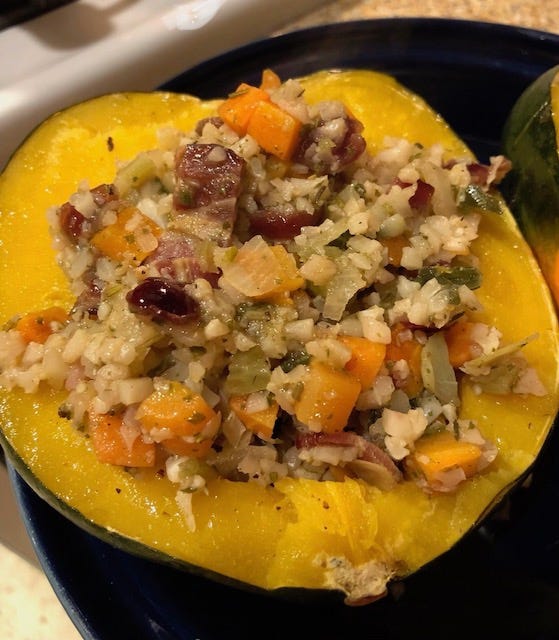 My first box came with an acorn squash, which inspired me to try my hand at a stuffed acorn squash dinner. I roasted the squash at 375 for about 45 minutes, then sautéed up a bag of Trader Joe's riced cauliflower stuffing with some diced bacon and spooned it into the halves.
Friends, I did not love it. Mostly because the thyme and sage in the stuffing were way too strong, and the whole blend wanted balance. The fat and salt from the bacon helped cut through the overwhelming herb flavor of the stuffing, but I gave up after a few bites. Wah-wah. I'd like to try this again with some quinoa, brussels sprouts, bacon, and dates, and maybe roast the squash a little longer. I know there's a more balanced concoction out there. Hope springs eternal and all that.
I did try this Greek mac and cheese recipe that I'd been (wrongly) skeptical about. Turns out that carbs + cheese are almost always going to be delightful together, especially during sweater weather.
In addition to it being sweater weather, it's also chili weather. Conde Nast Traveler covered my beloved Texas Chili Queens. Frito pie + history, y'all! (I also covered the Chili Queens a couple of years ago, but it didn't occur to me to pitch Conde Nast.)
Did you know that there's a Dunkin' Donuts AirBnB rental? It LITERALLY runs on coffee! Like me, regardless of the temperatures.
Luv,
me