On treating oneself
Chilaquiles, sheetcaking, and bicep goals

Last week was really hard. Like, just, spectacularly difficult. All of the adult women I know were going through the emotional equivalent of Andy DuFresne crawling through miles and miles of sewage pipe; we were all just so sad and rageful and flabbergasted. Except there was never the catharsis of triumphantly bursting out into the rain and fresh air. Just a fresh slog through the stench of misogyny at the start of every day.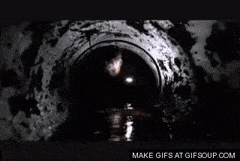 And yet, life continues apace. I celebrated my birthday this past weekend, and I very selfishly practiced what I called "radical me time." I started the day with a workout, got a pedicure, logged a few hours of writing, had dinner with my family, and went to a Decemberists show. It was a good day, one I really needed and wanted. (It probably helped that I also pointedly avoided MSNBC all day.)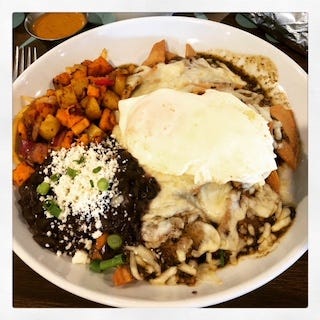 Over the weekend, I allowed myself to indulge in some meals I don't regularly have, especially in the span of 2–3 days. Among those was a chilaquiles plate from Eldorado Cafe, one of my favorite restaurants in Austin. Matt and I go there for breakfast almost every Sunday, and my usual order is an egg white taco bowl and a biscuit, of which I eat half. And it's fine! I love it. But this week I decided to splash out with tortilla chips sautéed with chileverde salsa topped with cheese and a fried egg. The chileverde, roasted tomatillos pureed and onions and garlic and spices, is smoky and not super spicy. This is just a fantastic balance of flavors — umami and salty and cheesy — and it's super filling. I ate about half of the plate for breakfast on Sunday and didn't need to eat again until nearly dinnertime. I boxed up the leftovers and … promptly forgot about them until I saw them in the car on Monday morning. Tragic, perhaps, but maybe not in the grand scheme of things.
Many women last week were talking about rage drinking and eating entire cakes as a way to cope with the Kavanaugh Karnival horror show. And, strangely, thinking about bellying up to a slab of grocery store cake brought up some old stuff for me.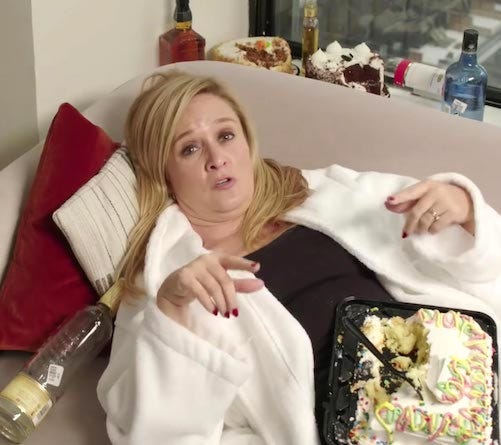 My freshman year in high school, I lived with my grandparents and aunt in Crockett, Texas. My mother was in the process of getting on her feet after divorcing her second husband and living several hours away in Corpus Christi. It was a kind of heavy time.

I would come home from school and eat an entire can of fruit cocktail topped with a generous helping of Cool Whip. Then I'd drop the pretense and eat the Cool Whip right out of the tub. I'd eat dinner with the family just an hour or so later, even though I wasn't hungry at all. After dinner I would get on the stair machine, overfull and sick to my stomach, but desperate to somehow undo the damage I'd done with my fork. These binges happened every afternoon. I didn't realize then that they were my 14-year-old self's way of coping with a lot of trauma.

So, when my impulse is to find my way to the bottom of a bottle of rosé or a pint of Enlightened Movie Night in order to mitigate how bad this daily cocktail of rage and despair makes me feel, I think about Teen Melanie and how I owe it to her not to go back to that place. That no amount of booze or cake will make things better. They'll just make me feel worse. (I've found that a good, intense workout helps tame the rage, though. If I had time for an intense workout every time I found myself swallowing bad feelings, I'd a.) finally look like Henry Cavill in Superman [hashtag fitness goals] and b.) be the most beatific mofo on the planet.)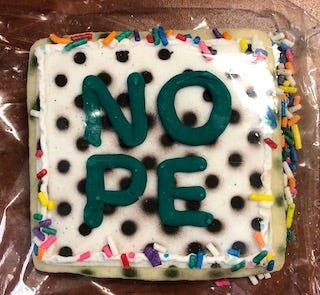 But here's the thing: It's entirely possible that I have ingested the equivalent of a sheet cake over the past few weeks in the form of daily treats. Like a fancy cookie in the afternoon or a slice of cake at an office birthday celebration or a cider while I send eleventy billion PTA emails. The daily slog of cruelty and heartbreak nibbles at the soul, and the binge takes the form of "treat yo' self" creep.
I'm trying to find productive ways to channel the feelings. Knitting helps. Reading helps. Writing helps. I'm looking into how cooking can help. I'm convinced that, for me, there are better ways to treat yourself, and treat yourself well.
Be good to yourselves,
Melanie