on postmodernism, part 2: convenience store woman
So, it's been a minute since I've had the space in my day and my brain to aggregate some thoughts on stuff in this space. I've missed the exercise of said aggregation, and look forward to doing more of it.
The last time I popped in here, I talked about hamberders, social media, and late capitalism. I had also just finished reading Convenience Store Woman, a Japanese novella about a socially awkward (understatement) woman who works in a convenience store (this is a great breakdown of what Japanese convenience stores offer; this ain't your typical 7-11 we're talking about here).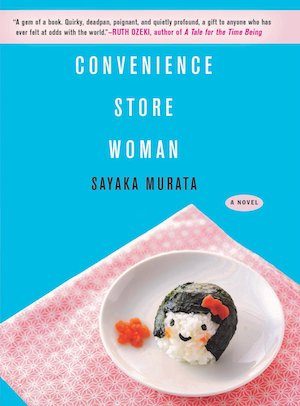 It was a quick read, but densely packed with clever, poignant observations about gender and labor in a late capitalist moment, and within the context of buying, selling, and consuming food.
Keiko has never fit in to society, from her earliest days of grammar school, where she doesn't understand why she can't just do and say the things she feels. She quickly learns to go along to get along until her late teens, then installs herself as a part-time employee at a convenience store, where she still works at age 36. She's single and therefore already suspect/broken within society, and her lack of career ambition renders her doubly problematic. As an anonymous, nearly robotic employee, Keiko observes society and human behavior from the vantage point of, effectively, the machine itself.
For example,
For breakfast, I eat convenience store bread, for lunch I eat convenience store rice balls with something from the hot-food cabinet, and after work I'm often so tired I just buy something from the store and take it home for dinner. […] When I think that my body is entirely made up of food from this store, I feel like I'm as much a part of the store as the magazine racks or the coffee machine.
Later, she scolds a new employee, Shiraha, for his attitude that convenience store work is better suited to women:
Here in the convenience store, we're not men and women, we're all store workers.
Keiko dispassionately views herself as a part of a machine, a cog in a very specific wheel in a very specific industry, the "forcibly normalized" space of the convenience store, where every employee wears a genderless uniform and greets every customer with "Irasshaimase!" ("Welcome!"), greetings that every employee rehearses in concert with their coworkers before their shift begins. She also recognizes that someday she will no longer be useful to this machine.
When you do physical labor, you end up being no longer useful when your physical condition deteriorates. However hard I work, no matter how dependable I am, when my body grows old then no doubt I too will be a worn-out part, ready to be replaced, no longer of any use to the convenience store.
Keiko doesn't make a lot of money; in fact, she reminds the reader several times that she makes just enough to house and feed herself so that she can keep her body in good working condition for her job. She literally exists to work at the convenience store; her identity has been subsumed into that of the store.
There are lots of other really powerful observations about women and work and marriage in Convenience Store Woman, and I really highly recommend the novel. It's a very fast read, a little weird, a little unsettling, but ultimately very thought-provoking.
The reason it stood out to me, particularly the passages above, is that it reminded me of some of the conversations taking place about food-service labor here in Austin in recent days/weeks/months. First of all, the City Council passed a sick-leave ordinance last year that would require small businesses to allow employees to earn eight sick days per year of work; less for businesses with fewer than 15 employees. Many restaurateurs here in town, some of whom I know and like and consider to be progressive in their views, signed a petition opposing said ordinance, which I found deeply disappointing. If an employee gets sick and doesn't come to work, they don't get paid if they don't have the economic protection of paid sick leave. If a small business owner gets sick, they still get paid, because their employees are still there to run the business. Economic stability and the right to stay home if you're sick shouldn't be restricted to business owners, and employees shouldn't be disposable/expendable simply because they (or their children) are stricken by the flu. (The ordinance was blocked because of course it was.)
Not too long ago, the San Francisco Gate reported on how the cost of living has driven restaurant labor out of the city, causing labor shortages. The Austin restaurant scene has encountered a similar labor crisis, and it shows. You can tell which restaurants aren't paying their servers a living wage (so, more than the $2.13 minimum wage for tipped employees) because the service is crap and the good waiters are working at the restaurants where they can earn enough to make their rent, and maybe even get health insurance and YMCA memberships. Places like L'oca D'oro, the owners of which are committed to fair wages and don't allow tipping in their restaurant, and Black Star Co-op, where employees are also owners and not only do you not tip, but you clear your own dishes.
I've heard lots of people say that if restaurant workers want to make $15/hour, they should get better jobs. I think that's lazy answer to the question. It's really easy to think of the person who hands you your Quarter Pounder with cheese through the drive-through window or delivers your margarita and chips & queso as part of the overall machine of the restaurant. It's easy to forget that they are human, and that there's not a Job Store where they can go get a Shiny New Job.
When I was hugely pregnant with 13, my oldest child, I was waiting tables at California Pizza Kitchen. One busy Saturday afternoon, I served a six-top of very difficult women who were rude from the get-go and were outright hostile to my attempts to build rapport. The kitchen made an error with one of their salads, and I was apologetic and made it right immediately. Their bill came to about $70, and as they left, one of them pulled me aside and told me that they weren't tipping me because they'd been so unhappy with my service. I said, "I'm sorry you feel that way; I did my best. We're extremely busy and I'm pregnant and exhausted." She said, "I understand that, but this is your job." The only ever time I got stiffed at that job was when I served a table of middle schoolers who left me a penny. (Oh, and now-Texas governor Greg Abbott tipped me 10%, but I chalk that up to him being a bridge troll. When I waited tables, I was good at my job, and I made good money. But mistakes happen, and restaurants are the space where people can use their power to punish low-wage workers economically for those mistakes.
There's a moment in Convenience Store Woman where Keiko encounters a common attitude toward food-service workers:
When you work in a convenience store, people often look down on you for working there. I find this fascinating, and I like to look them in the face when they do this to me. And as I do so I always think: That's what a human is.
I love the ambiguity of that statement, particularly "that" as a referent. Is "that" the human impulse to sort and quantify, to determine the pecking order and act and treat others accordingly, allowing service workers to fade into the noise of industry, just another piece of machinery? Or is "that" the act of looking another in the eye and acknowledging the fact that we are all slowly dying bags of meat, trying to do the best we can with what we have?