Just some foodie things
Dining out, cooking in; working out, lying in

It's September 2018 and I've decided to write a newsletter, which means that newsletters are juuuuuust about past their moment. I don't blog anymore, Facebook and Instagram aren't really the right platforms for the kind of communicating I want to do, and Twitter is just for retweeting political outrage, so I thought I'd give this newslettering thing a crack. My plan at this point is to send a dining and cooking-centric newsletter once every week or two and share notable meals I've eaten and recipes I've cooked, as well as some thoughts on fitness and nutrition and how that fits into all this eating. That's the general idea, anyway; there might be some drift from time to time.  
My favorite meal (this week):
Garden Plate with spicy teriyaki chicken at Nancy's Sky Garden. I first learned about Nancy's Sky Garden when I was doing a roundup of Georgetown restaurants back in 2014. Back then I wrote, "If I worked within walking distance of Nancy's Sky Garden, I would probably have financed at least one of Nancy's children's college educations by now." Well ... be careful what you wish for, because there's now a location about a mile from my house, and I work from home on Fridays. There's nothing about this plate I don't love: it's HUGE (easily two portions), everything is fresh, and those japchae noodles add the right amount of texture and interest to elevate this beyond just a regular old salad. While I don't often go out to eat with the specific intention of making a mega-healthy choice, I never, ever regret a trip to Nancy's. I don't think you will, either.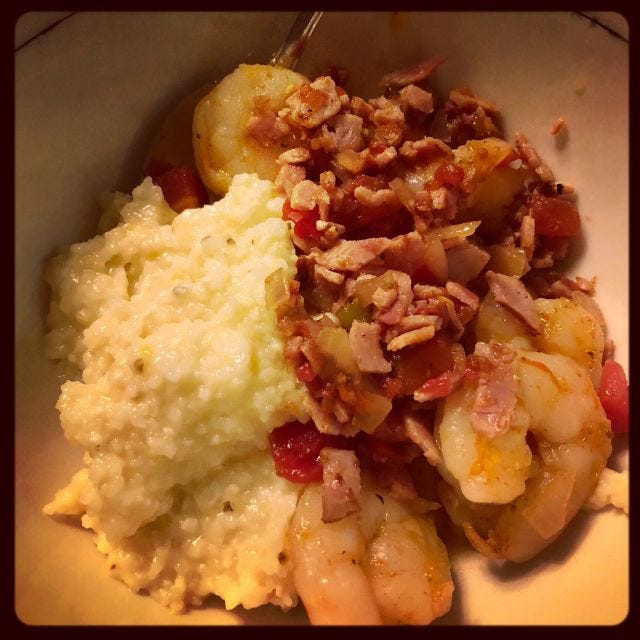 Recipes I've loved lately: 
Skinnytaste's Kiss My Shrimp and Grits from The Skinnytaste Cookbook. Real talk: I'd never cooked grits before. In fact, I haven't even *eaten* grits that many times in my life, despite having grown up in the south and eaten at the tables of two great-grandmothers who were crackerjack scratch cooks (and also despite owning a copy of Grits by Virginia Willis). Matt (my husband) will often order shrimp and grits when we are at southern restaurants, and I finally put two and two together and decided to try my hand at them.

These grits were a little thicker than I think they're supposed to be (the resident 13-year-old very charmingly stood his fork up in them and made a snide remark about their consistency; the nearly 10-year-old looked at hers with a combination of confusion and revulsion), but they were delicious. I applied the Old Bay seasoning to the shrimp with a heavier hand than the recipe called for because the Skinnytaste recipes can be a little bland. This dish got two thumbs up from Matt, and I enjoyed a larger portion of grits than was probably necessary or appropriate, but that's how good a recipe it is. It's definitely going into regular rotation, especially since I bought a big ole bag of grits that I don't want staring at me from my pantry shelves for the next two years.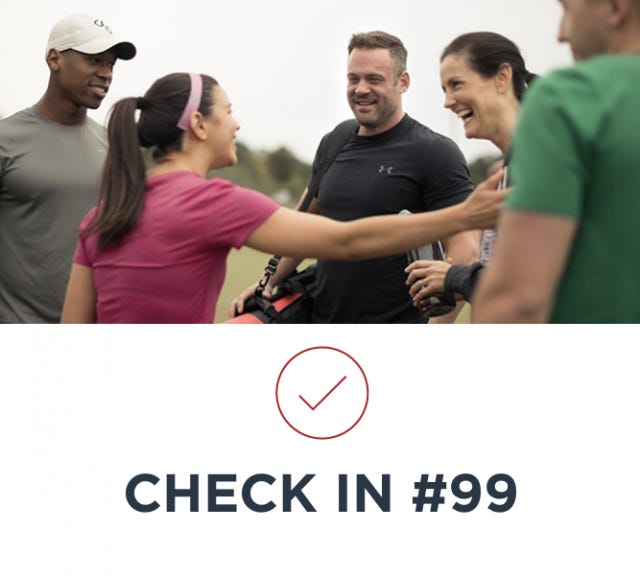 Weighty matters:
Despite the fact that most of our weeknight meals are Skinnytaste-inspired, I recently dropped out of Weight Watchers. I'm still a paying member because I can't quite cut the cord yet (also, I can't remember my password to log in to my account to cancel it), but I haven't tracked points or gone to a meeting in a few weeks. See, I've also been working out with Camp Gladiator for the past year and change and I've come to the realization that the number on the scale is just that — a number — and it doesn't tell the whole story of what's going on inside my body. I'm working toward thinking of food as fuel rather than something to be quantified and justified and pathologized.

That said, I had to laugh when I got a peek at what folks were having for their lunches in the office today. The 40- and 50-year old ladies? Chicken salad wrapped in lettuce leaves, Skinnytaste egg roll bowl (hi!), and Lean Cuisines. The 20-year-old student worker who is also a model and a literal beauty queen? Pizza and an entire bag of Takis. Part of me was like, YASSS KWEEN! The other part of me was like, enjoy it while you can, sis. (I'm still working on that pathologizing food thing.)

This is a really interesting and provocative and heartbreaking article about obesity in America. Also, this forthcoming book looks compelling. 
Byline bragging: 
I've got a new feature out this week, one that was pretty fun (but also kind of hard?) to write. And this review of The Brewer's Table came out last week. 

Thanks for reading, and holler at me if you eat or cook something wonderful and worth sharing! 

Luv,
Melanie