Getting unstuck
plus not making excuses for chocolate-beet cupcakes
On the day that Stephanie died, I went to a previously scheduled lunch with a girlfriend at a restaurant downtown. I couldn't have canceled, as I was reviewing the restaurant and my deadline loomed. During lunch, we had a very spirited conversation about our jobs and goals and little pipe dreams we'd pursue if things like mortgages and student loans weren't an issue. Stephanie loomed large in my mind during that conversation, especially the fact that even though she only lived to 39, she touched hundreds of lives, as a teacher and as a human. With that in mind, I said, "we only get one whack at this piñata called life — we gotta make it count."
I cringed as I said it, because holy hell that is some hackneyed shit. But it's also true. I guess what I'm trying to say is that in the month since Stephanie died, I've been feeling an increasingly urgent need to make some changes, specifically to my career. I achieved my dream of earning my PhD seven years ago and ever since, I've just been spinning my wheels and ignoring how bad that spinning has made me feel. I feel lost and sad and directionless, which is a strange thing to hold in tension with complete and utter devotion to and adoration of my family. I have tried to let that love and work for my family subsume those feelings of malaise, but it's just not working anymore.
And not to be one of those middle-aged, middle-class white ladies who use Brené Brown as a mouthpiece, I think Brené Brown describes what I've been feeling pretty accurately in her essay on midlife:
Midlife is when the universe gently places her hands upon your shoulders, pulls you close, and whispers in your ear:

I'm not screwing around. All of this pretending and performing – these coping mechanisms that you've developed to protect yourself from feeling inadequate and getting hurt – has to go. Your armor is preventing you from growing into your gifts. I understand that you needed these protections when you were small. I understand that you believed your armor could help you secure all of the things you needed to feel worthy and lovable, but you're still searching and you're more lost than ever. Time is growing short. There are unexplored adventures ahead of you. You can't live the rest of your life worried about what other people think. You were born worthy of love and belonging. Courage and daring are coursing through your veins. You were made to live and love with your whole heart. It's time to show up and be seen.
So, basically, I'm stuck and I need to figure out a way to get unstuck. It's going to involve talking to people, and listening to my gut, and making the necessary moves while also continuing to make the lunches and plan the meals and buy the groceries and organize the art classes and trombone lessons and pay the credit card and student loan bills.
My husband gave me a new cookbook for Christmas and, as is my ritual, I went through it and flagged all the recipes I want to try. The first one I tried was chocolate-beet cupcakes. They were earthy and chocolatey, not too sweet. The whole-wheat flour gave them a coarse texture, though, that one doesn't usually associate with cupcakes. Because I made too much, I plopped a generous ice cream scoop of frosting on each cupcake and bedazzled them with some red edible glitter and a shard of semi-sweet chocolate.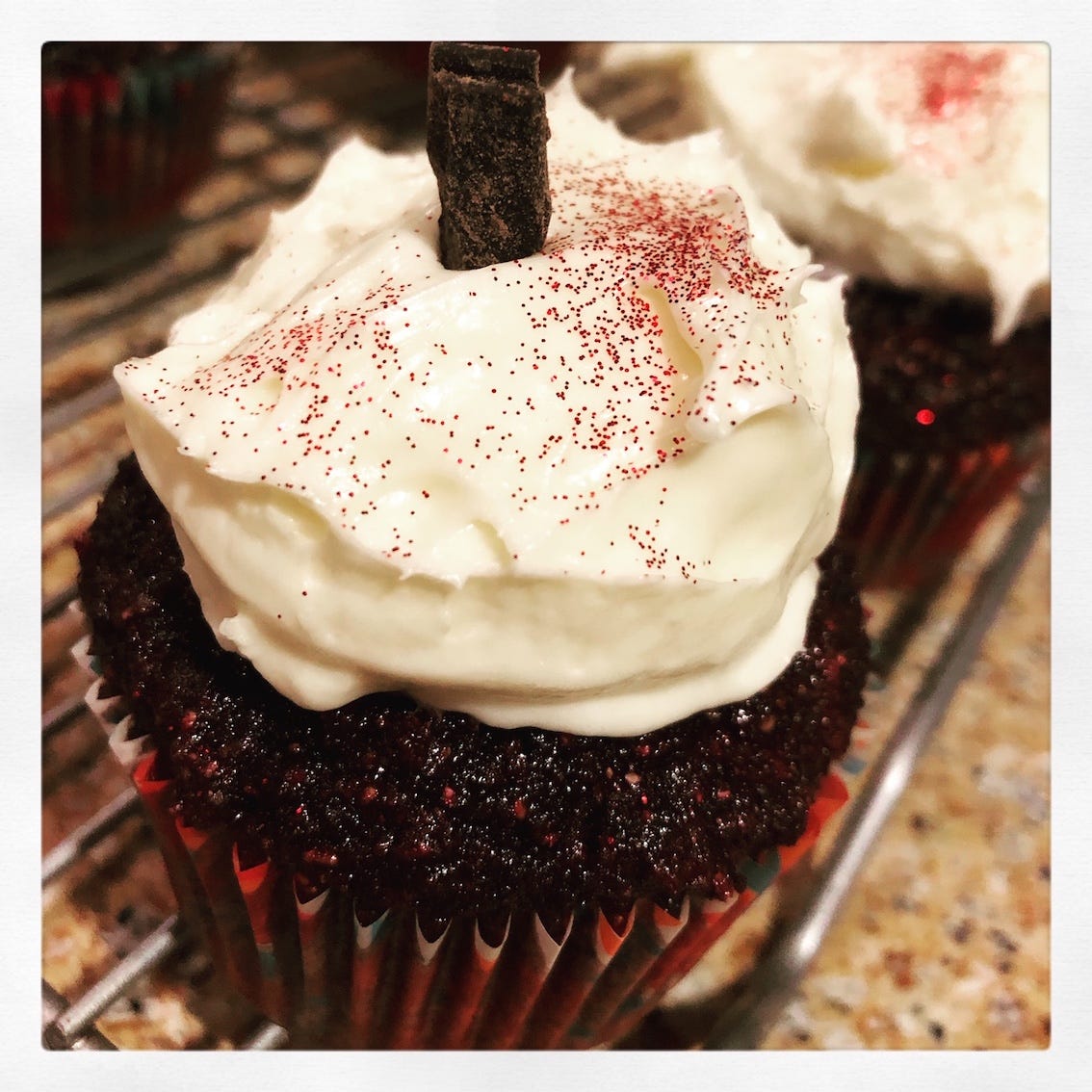 I took them to a PTA board meeting and felt the need to make a bunch of excuses for them. "They're chocolate-beet, and their texture isn't like a bakery cupcake. It's more like a cupcake your mom would make if she was trying to trick you into eating vegetables." And I realized that I just needed to shut the hell up about the cupcakes. I didn't need to make excuses for them — they were perfect in their unusual, earthy way, and they got the job of being weird but yummy done. There's a metaphor to be found in there somewhere.