Discover more from Justsomefoodiethings Newsletter
Food, food history, food culture, climate, social justice, and feminism.
It's Monday!
…in which I ponder whether Britney Spears' "Work Bitch" is both the perfect workout track AND personal life soundtrack.
(The answer is an unequivocal YES.)
When the latest pictures of Adele popped up on social media last week, a mean old feeling bubbled up from the depths of my psyche. I had been feeling it start to stir for a few weeks — since late March, to be precise — but when I saw her dramatic weight loss and the ensuing discourse around it, that mean old feeling burst through like a geyser.
I don't have a name for that feeling, probably because it's multidimensional. It's discomfort in your body. It's creeping self-consciousness. It's disgust when you look in the mirror. It's sadness and shame when you see photos of yourself from a year or so ago when you had defined biceps and sculpted shoulders. It's feeling virtuous when you make the right portion-controlled choices and get in a good workout, and feeling ashamed when you binge-eat dry Lucky Charms because you can't sleep.
There have been a lot of jokes about folks gaining the COVID-15. About how the buttons on their jeans are practicing social distancing. Trust me when I say that living through *gestures broadly* all of this is a true headfuck when you've got a … complicated relationship with your weight.
The combination of bad leadership and bad citizenship that marks this period of American history fills me with rage and frustration and a deep sense of futility. In the face of this toxic combination of rage and help/hopelessness, I need something to control. So I find myself swinging between measuring out a half-teaspoon each of almond butter (0 WW points) and blackberry jam (0 WW points) to spread on my slice of toast (2 WW points) for breakfast of a weekday and pouring myself a talllllll margarita (??? WW points; I don't really want to know) and diving face-first into a bowl of cheese (∞ WW points) of a Saturday evening.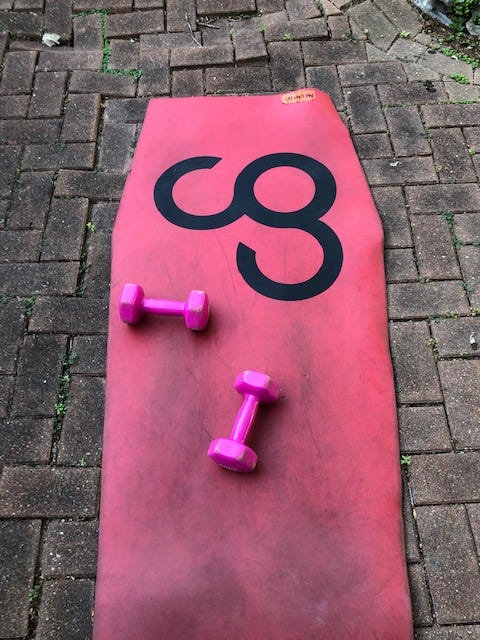 I've been seeing my former Camp Gladiator trainer in the mornings when I am out walking/running. (Hi Omar!) I always feel embarrassed when I see him because I have gained weight since leaving CG back in the fall (partly because of my ~season of life~ and partly because I quit both Weight Watchers and CG around the same time). I know he's not judging me — I'M judging me — but it has done something to my mindset. I feel more driven. I miss feeling strong and sculpted. I miss feeling confident.
But you know what else I miss? I miss not being in a pandemic. And millions of people miss having jobs. And still more people miss having food in their pantries at all.
After my run this morning, I set up my CG mat outside and did a short strength workout. It felt really good. Also, the chickens were really confused when I started doing quick-jacks on the patio. And for about 20 minutes, I could think about making sure my deadlift-to-row form was correct, and how long it had been since I did a burpee. And if I'm thinking about that, I'm not thinking about the people having parties at the park down the street and all the other things that are utterly out of my control.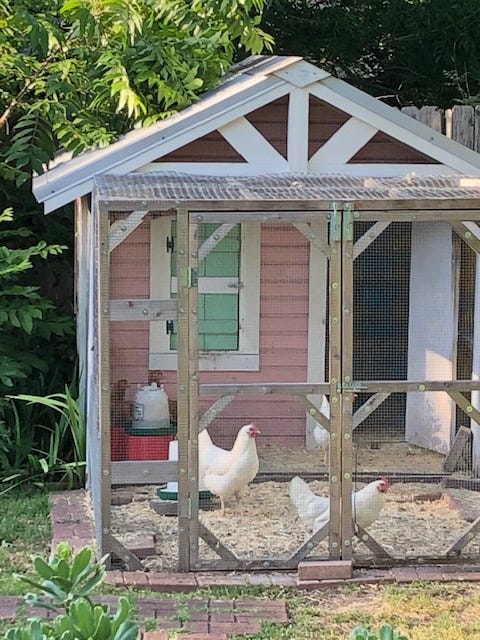 The thing that really galls me the most about all of this is that the media is making a meal (forgive the pun) out of this topic. There is a lot of advice out there about how to avoid gaining weight while quarantining. One piece of advice is for every movie you watch, you should do 20 minutes of exercise. Stock up on fresh, frozen, and canned vegetables (rinse the canned vegetables before consuming them to cut down on sodium). Avoid liquid calories (drink only beverages that have 0-5 calories per serving). Move, move, move.
I'm trying to make ground rules for myself — no alcohol on weeknights (it really messes with my sleep anyway, and I don't need extra help in that department), exercise 5 days a week, get outside in the afternoon (riding bikes with the kids has become one of my new favorite things), keep my hands busy so that I don't feel the need to eat eat eat. But also, I'm ignoring the scale, because within that number dwells an exquisite brand of torture that I'm not sure I am currently equipped to negotiate. (Put another way: NOT TODAY, SATAN.)
BUT … maybe we could blow up the diet culture that informs all of the poisonous messaging about what our bodies should and shouldn't look like. Especially considering that the divide between the haves (with direct access to dry Lucky Charms for late-night binge eating) and have nots (the ones lining up for hours at mobile food pantries) is that much more pronounced now.